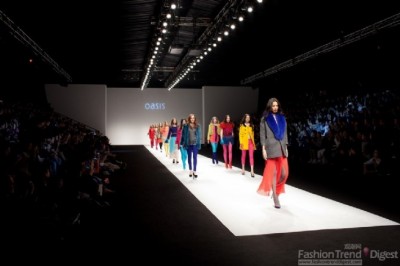 British well-known women's brand OASIS 2012 autumn and winter conference held in Shanghai Xintiandi Lake was held; the scene gathered guests witnessed this fashion feast. This season Oasis 2012 bright autumn and winter, with large prints and shiny elements for inspiration, will be rich in color into the creative cutting, people like walking dreams, enjoy the green branches gradually become comfortable and relaxed.

The bright colors of OASIS have a high popularity, pleasing impact color overflowing unique self-confidence charm. Romantic printing everywhere infiltration with the long-awaited mystery and personality, quietly exudes calm if the pool, moving as the extraordinary femininity of ripples.

Unique British temperament OASIS fashion is full of fun, full of femininity, gorgeous, confident and glowing, it will shine dazzling fashion into the lazy winter, open a season of Ambilight fun trip.

OASIS 12 autumn and winter conference inspired by the 1960s sweet retro style and the seventies modern sensual New York style, while adhering to the two major elements of printing and color, on this basis, rubbing colorful stones embellishment details, gives a unique A grid, fresh, vibrant feelings, inspire women from bright colors and romantic printing heartfelt desire. A single product, including exaggerated large print dress, all kinds of beautiful color fur, color hand-woven jacquard sweater, retro sweet woolen coat and so on.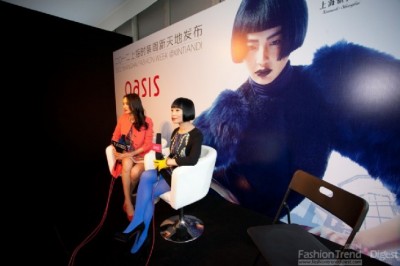 Media Q & A

Gilbert:

Q1: As OWA's debut as a women's fashion brand at Shanghai Fashion Week, what do you think of your CEO as a brand telling us?

A1: First of all, I am honored. OASIS from the United Kingdom, as the debut of the Shanghai Fashion Week debut, to some extent is the image of British fashion enjoys popular support.

Happy Shanghai Fashion Week can give us such an excellent platform, through today's catwalk, allowing more people to understand and understand OASIS brand, so that more people concerned about the fashion, fashion participation.

Here, I wish this year's Shanghai Fashion Week a complete success!

Q2: Can you introduce OASIS brand concept for us?

A2: As one of the leading fashion brands under the Aurora Group, the second largest fashion group in the United Kingdom, OASIS has its own independent culture and personality. In more than 20 years of development, OASIS creative design has always been the pro-consumer favorite and favorite. Rich prints, gorgeous colors and superior quality are the inspirational elements of the OASIS brand. For OASIS, fashion is for women to dress well and enjoy the fun of our brand to showcase women's self-confidence

British Consul Madam Jacqui:

Q1: We know that OASIS from UK has now established its own brand position in Chinese fashion industry. Could you please give your opinion on OASIS brand?

As we know, as one of the famous UK brands, OASIS has already established its own brand status, would you please share your view on this brand with us?

A1: Sure, as all of us saw today, OASIS is a very brilliant brand, offering a lifestylecollection, with a reputation for design, print, quality of fabric, color and femininity. It is fashion and romantic, I believe people will love this brand as I do.

Q2: In your opinion, what is the current status of UK apparel brand in China? In the future will be toward which direction?

How do you think the current situation of UK clothing brands in China and what's your expectation in the future?

A2: I'm very glad to see many UK brands were accepted and developed well in China by Chinese consumers, that is actually encouraging. I hope there will be more and more UK brands come into Chinese marketing in the future, bringing more UK culture to China.

Q3: If the OASIS brand spirit is closely related to the British character, what aspect of the British do you think OASIS can demonstrate?

Supposing OASIS brand values ​​are somehow closely bound up with British character, which aspects do you think OASIS embodies most of that?

A3: I think, modern, innovative, independent, inspiring and aspirational, these fit British spirit well.

Gao Guozhi

Q1: This time to participate OASIS autumn and winter fashion show, you as the only Chinese model to take the lead, please tell you your feelings and views on the OASIS brand?

A1: I'm the only "Chinese face" on today's T stage. I think this is somewhat similar to the OASIS brand in some ways: displaying self and being different.

Q2: What do you think about OASIS brand difference?

A2: From my personal point of view, OASIS makes it very comfortable to wear. When I see the colorful prints, I relax spontaneously and my confidence is revealed. I think OASIS is the most authentic and beautiful woman on the show.

Q3 .: Your interpretation of the several sets of OASIS clothing has its own characteristics, personally, what is your favorite, and why?

A3: In fact, I think today's clothes I like very much, in line with the different occasions, different dress and collocation.

Q4: Can you talk about the English fashion you understand?

A4: I think, British fashion in the international fashion trend occupies an important place: avant-garde, steady, classic. British fashion elements are indispensable every age. I can not imagine a British fashion ring.

Q5: How are you going to interpret the OASIS brand before today's catwalk?

A5: Actually, I think OASIS is a brand that makes you unforgettable. Whether it is its design or the feeling it gives, I think it shows a real blooming I am full of confidence, is the best.

slowly

Q1: The OASIS presents us with beautiful autumn and winter fashion show, as OASIS creative director of design and vice president, can you tell everyone the source of inspiration for the autumn and winter series?

A1: OASIS autumn and winter of this year's design inspiration from the 60's sweet retro style and Diane Keaton 70's charming Motif New York style, at the same time adhering to the two elements of printing and color, on this basis, rubbing shiny metal elements to people Unique, fresh, vibrant feelings.

Q2: OASIS Impressive prints and colors are impressive. It has begun to become an OASIS classic, and if possible, will OASIS try a whole new style?

A2: OASIS's memorable prints and colors make OASIS a classic that we will continue to maintain. Fashion is an attitude, Oasis fashion attitude is to create self-confidence, unique, romantic, glowing women.

Q3: As a fashion industry professionals, can you introduce this year's fashion trends in autumn and winter?

A3: fashion has never been a single, popular trends are the same. From the 2012 international fashion trends, fur wearing, local metallic bright elements, exaggerated diamond jewelry and other accessories exaggerated expression, mix and match printing and bare-length dress, as well as from last year until now has been "wearing like Kate" - - "Elegantly dressed like a princess," with both elegant and slightly sexy outfits For OASIS, there will still be outstanding prints and color overlays in 2012.

Q4: Today's show people see a full feminine brand, in a rapidly changing fashion circle, OASIS how to always adhere to a keen sense of smell, the most accurate way to show the charm of women do?

A4: OASIS itself is like a shining glamorous woman, she is lively, romantic, elegant, like to explore the unique chord of things, self-confidence, creativity, bright colors and or romantic printing has the desire from the heart, she Not only the trend, but also maintain their own unique style. This is why OASIS can interpret the unique charm of a unique woman.

Q5: OASIS is the British women's brand, in China, how to combine with the temperament of Chinese oriental women?

A5: Traditionally, oriental women emphasize gentleness and virtues, while Western women are naturally independent and passionate. As the degree of internationalization accelerates, Chinese women become increasingly internationalized. OASIS confident brand features and gentle Chinese women can be well integrated, but also make the city females emit more light.

Hank Yarn,Polyester Yarn On Hanks,Polyester Spun Yarn In Hank,High Stretch Hank Yarn

Nignxia Hengfeng Textile Technology Co., Ltd. , http://www.hffiberyarn.com